Updates
Special
Aria the Scarlet Ammo: Scarlet Fiesta
---
Aria the Scarlet Ammo: Scarlet Fiesta is the 10th Anniversary special book for the Hidan no Aria series released on March 25, 2019.
Recent Light Novel Volume
Volume 30 - Chasing the Melancholy
---
Chasing the Melancholy is the thirtieth volume of the Hidan no Aria novel series released on December 25, 2018. This novel concludes the Agnes School Infiltration arc and begins The Search for Konza Tohyama arc.
Recent Manga Volume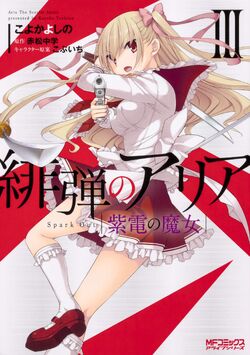 Aria the Scarlet Ammo Spark Out III
---
Aria the Scarlet Ammo Spark Out III is the third volume of the of the Shiden's Witch manga series based on the Hidan no Aria series released on February 23, 2019. This volume is based on the events of Volumes VIII and IX of the light novel series and contains chapters 13-18.
Recent Anime Episode
Featured Article
Kaname Tohyama
Kaname Tohyama is a first generation Genion genetically engineered from Konza Tohyama's DNA. She is the younger genetic half-sister of Kinichi Tohyama (Kana), Kinji Tohyama, Kinzou Tohyama (GIII), and the older genetic half-sister of Kanade Tohyama. Kaname was originally called GIV until she was given the name Kaname by Kinji based on Kinichi's alter ego, Kana. She is a highly trained professional in advanced weapons and 14 close range weapons like daggers, swords, and lightsabers with her main weapon being Sonic. However, despite being genetically engineered and powerful, she is light-heart, kind, cheerful, and bubbly, but has the tendency of being a crybaby. Also, she's overprotective of Kinji leading her to get jealous when other girls are around him.
(More)
Who is your favorite sister of the main character(s)?
Who do you think will be on the cover of Volume 31?