Featured Article
Nemo Rinkarun
---
Admiral Nemo Rinkarun is a member of the N organization whose abilities are on par with Aria H. Kanzaki. She refers to herself as Kinji Tohyama opposite number by being known a Disenable, the woman who can make the impossible, impossible. Similar to Aria, Nemo is a tsundere, who has shown capacity to be intimidating, cruel and dangerous, but also shows a demure and loving side after she falls for Kinji. She is very intelligent and prideful, and would resort to hitting and berating Kinji when she gets embarrassed by him. However, at heart, Nemo is very shoujo-esque, showing a fear of bugs and an interest in romance and clothes like most girls. It was revealed she was fated to be with Kinji by Professor Moriarty.
Recent Light Novel Volume
Volume 35 - Invasion Bride
---
Invasion Bride is the thirty-fifth volume of the Hidan no Aria novel series released on June 25, 2021. This volume starts the Moriarity arc.
Recent Manga Volume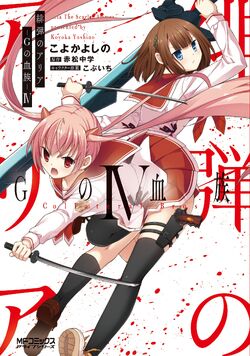 Aria the Scarlet Ammo G Collateral Bros IV
---
Aria the Scarlet Ammo G Collateral Bros IV is the fourth and final volume of the of the G-Kin manga series and 25th volume of the overall manga series based on the Hidan no Aria series. It was released on July 21, 2021. This volume is based on the events of Volume XI of the light novel series and contains chapters 19 - 24 and the afterword.
Recent Anime Episode