Featured Article
Lisa Ave du Ank
---
Lisa Ave du Ank was once the maid for IU and the Greneda faction during the Far Eastern Warfare (FEW) while searching for her true master. After encountering Kinji Tohyama while they were both escaping the Deen faction, she determined he was her true master based on Sherlock Holmes' prediction and now serves him loyally as his personal maid. Lisa has no combat skills and hates fighting so as her master, Kinji became her protector. However, when Lisa sees the full moon or has a near death experience, she will transform into a large, golden fur werewolf known as The Beast of Gevaudan, where she loses all sense of reason, then kills and devours her allies, and become the master over other animals. Fortunately, Kinji is able to still reach Lisa soul even is in this state, where the werewolf will not hurt him. After the end of the Far Eastern Warfare (FEW), she returned with Kinji to Tokyo and enrolled into Tokyo Butei High School in the Ambulace department.
Recent Light Novel Volume
Fly to Kirazuki
---
Fly to Kirazuki is the thirty-sixth volume of the Hidan no Aria novel series released on December 24, 2021. This volume continues the Moriarity arc.
Recent Manga Volume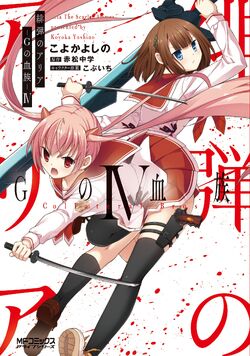 Aria the Scarlet Ammo G Collateral Bros IV
---
Aria the Scarlet Ammo G Collateral Bros IV is the fourth and final volume of the of the G-Kin manga series and 25th volume of the overall manga series based on the Hidan no Aria series. It was released on July 21, 2021. This volume is based on the events of Volume XI of the light novel series and contains chapters 19 - 24 and the afterword.
Recent Anime Episode