Updates
Recent Light Novel Volume
Volume 33 - Return of the Corolla
---
Return of the Corolla is the thirty-third volume of the Hidan no Aria novel series released on June 25, 2020. This volume concludes the Endimira arc and begins the Yuka Tohyama arc.
Recent Manga Volume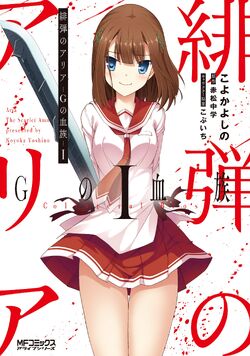 Aria the Scarlet Ammo G Collateral Bros I
---
Aria the Scarlet Ammo G Collateral Bros I is the first volume of the of the G-Kin manga series and 22nd volume of the overall manga series based on the Hidan no Aria series. It was released on February 21, 2020. This volume is based on the events of Volume X of the light novel series and contains chapters 1-6.
Recent Anime Episode
Featured Article
Kanade Tohyama
Kanade Tohyama is a second generation Genion and the younger genetic half-sister of Kinichi Tohyama (Kana), Kinji Tohyama, Kinzou Tohyama (GIII), and Kaname Tohyama. Kanade was born as a second generation genetically engineered human weapon under the name "GV" in a research center in Los Alamos, New Mexico, United States after Kinzou (GIII) and Kaname (GIV) creation. Her genes were samples from Konza Tohyama, people with abilities, and reverse Irokane. She was created to fight gods like Tamamo, Aria H. Kanzaki, Kou, and Habi. However, she is girl with a gentle heart who is unfit for combat. She eventually escaped the research facility and went to Tokyo, looking for Kinji, where he named her Kanade based on Kinichi's alter ego Kana. After the reverse Irokane was removed and following the defeat of Nemo, she began living with Kinji in his new apartment and started attending primary school.
(More)
Who is your favorite Tohyama sister in the series?
Community content is available under
CC-BY-SA
unless otherwise noted.