Updates
Recent Light Novel Volume
Volume 32 - Secret Ambassador
---
Secret Ambassador is the thirty-second volume of the Hidan no Aria novel series released on December 25, 2019. This novel concludes The Search for Konza Tohyama arc and begins a new arc.
Recent Manga Volume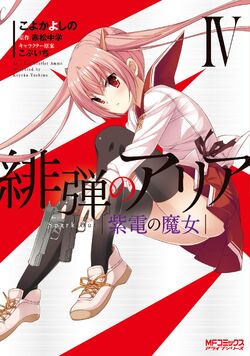 Aria the Scarlet Ammo Spark Out IV
---
Aria the Scarlet Ammo Spark Out IV is the fourth volume of the of the Shiden's Witch manga series based on the Hidan no Aria series released on August 23, 2019. This volume is based on the events of Volume IX of the light novel series and contains chapters 19-24.
Recent Anime Episode
Featured Article
[[File:|250px]]
Konza Tohyama
Konza Tohyama is the father of Kinichi Tohyama (Kana) and Kinji Tohyama as well as the biological father of Kinzou Tohyama (GIII), Kaname Tohyama, and Kanade Tohyama. He was once an Armed Prosecutor and an agent for Public Division 0 known as the Tohyama Golden Cross and the Demon Prosecutor. At some point, he fought against his fellow Public Division 0 member, Makiri Ito, where she stole one of his techniques and had supposedly killed him, leaving Kinichi alone to raise Kinji. It was later revealed he is alive and hiding somewhere in the United States, where he became a mercenary. He is currently under contract to assassinate Nemo Rinkarun to prevent N plans from succeeding.
(More)
Who is your favorite parent of the series?
Community content is available under
CC-BY-SA
unless otherwise noted.