Updates
Recent Light Novel Volume
Volume 31 - Silent Demon
---
Silent Demon is the thirty-first volume of the Hidan no Aria novel series released on June 25, 2019. This novel continues The Search for Konza Tohyama arc.
Recent Manga Volume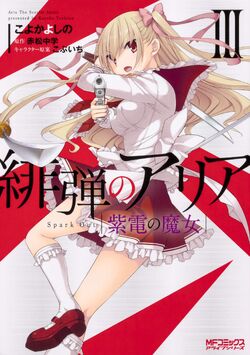 Aria the Scarlet Ammo Spark Out III
---
Aria the Scarlet Ammo Spark Out III is the third volume of the of the Shiden's Witch manga series based on the Hidan no Aria series released on February 23, 2019. This volume is based on the events of Volumes VIII and IX of the light novel series and contains chapters 13-18.
Recent Anime Episode
Featured Article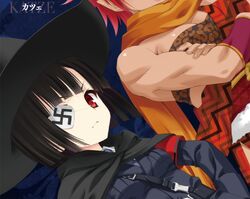 Katze Grasse
Colonel Katze Grasse is a Nazi, Ninth Leader of Regiment Hex, and the former Commander-in-Chief of IU. She joined the Greneda faction during the Far Eastern Warfare (FEW) conflict as a chance to kill her archnemesis, Meiya Romano, and have war against the Vatican. However, she was defeated by Kinji Tohyama at the end of the conflict, where she fell in love with him after he saved her.
(More)
Who is your favorite witch of the series?
Community content is available under
CC-BY-SA
unless otherwise noted.